Find Phoenix Park
Phoenix Park is easily accessible. The Visitor Centre is around six kilometres away from Dublin City Centre, and is just ten minutes from the M50 (exit 6), or twenty minutes from Dublin Airport.
By Bus
Dublin Bus provides a wide choice of bus routes to and from the outskirts of the Phoenix Park. Please check the Dublin Bus website for up to date information; route are displayed in full there by number. Bus stops are located at the following points outside the Park's walls:
To stop near Parkgate Street (Main Gate Entrance), Islandbridge Turnstile and Chapelizod Gate, use bus route numbers 25 and 26.
To stop next to the North Circular Road Gate, use bus route number 46A.
To stop on the Castleknock Road and enter the Phoenix Park through the Castleknock Gate, use bus route number 37.
To stop on the Navan Road and enter the Phoenix Park through the Ashtown Gate, use bus route numbers 37, 38, 39, and 70.
By Train or Tram
Heuston Station is a short walk to the Parkgate Street (Main Gate) entrance of the Park, and is regularly served by both regional and commuter trains. From Connolly Station commuter trains operate on a regular basis to Ashtown and Phoenix Park Train Stations, both of which are in close proximity to the Park. Check the Iarnród Éireann website for up to date information.
Use the Red Line for tram travel to the Phoenix Park, and get off at either the Museum or Heuston Station stop. Check the Luas website for up to date information.
Maps
You may find some of these maps of interest when planning your visit to the Park.
Bike Hire
Phoenix Park Bikes are located just inside the main gate on Parkgate Street. A wide range of bikes that are designed to cater for all ages, and the newly extended network of fourteen kms of cycle trails, make this a safe and enjoyable way for people to experience ad explore the Park. The bike hire facility forms part of a number of measures recommended in the Phoenix Park Transportation Study, commissioned by the Office of Public Works.
There is bicycle parking available in the car park of the Phoenix Park Visitor Centre
For more information, call 087 379 9946, contact us via Facebook or Twitter, or check out the website.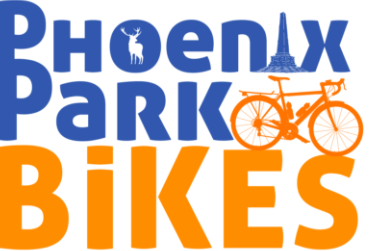 Car Parking
Car parks are provided for visitors to the Park and are situated at the following areas
Papal Cross
The Lord's Walk adjacent to Dublin Zoo
Phoenix Park Visitor Centre
Soccer Pavilions on Military Road
Civil Service Cricket Club off Chesterfield Avenue
Phoenix Cricket Ground off Chesterfield Avenue
Upper Glen Road
We request that visitors make use of these car parks and do not park on footpaths, bicycle lanes, double yellow lines or adjacent to junctions. Please see map above for locations.
The public should be vigilant with regard to leaving personal property in their cars in the Phoenix Park as there have been a number of break-ins recently. The Gardaí and Park Rangers are actively patrolling the Park and we advise the public not to leave any valuable items in their cars including their car boots. Please notify the Gardaí and/or the Park Ranger service if you notice any suspicious activity. You can call Cabra Gardaí on 01 666 7400 or get in touch with our Park Rangers on 087-2289688/98. Your vigilance and support is appreciated.
Accessibility
We are committed to making the Phoenix Park as accessible as possible. Please get in contact with us if we can assist in any way. We hope you find the below information useful in planning your visit.
There is designated accessible car parking spaces available in the Park, as well as wheelchair ramps. Due to the nature of the site, level access is not always possible, and there are steep slopes in some places, particularly by the Wellington Testimonial.
The Visitor Centre offers designated car parking spaces, wheelchair accessibility, universal access toilets, a lift, and facilities at reception to store buggies or prams if needed.
At Áras an Uachtaráin there is designated car parking, wheelchair accessibility, universal access toilets, a lift, and some rooms also have induction loop facilities. Buggies and prams can be stored, but not always at the reception area.  Please note these facilities are only available to invited guests.