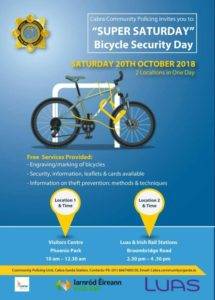 Cabra Community Policing Unit invites you to a "Super Saturday" Bicycle Security Day on Saturday 20th October 2018.
Location 1 and Time: Phoenix Park Visitor Centre car park from 10.00am to 12.30pm.
Location 2 and Time: LUAS & Irish Rail Stations on Broombridge Road from 2.30pm to 4.30pm
Free Services Provided:
Engraving / marking of bicycles
Security, information, leaflets and cards available
Information on theft prevention: methods and techniques.
Community Policing Unit, Cabra Garda Station.  Contacts: Ph. 01-6667400/20.  Email: cabra.community@garda.ie